Default IP address of Netgear R6300 v2 is:
192.168.1.1
Navigate to http://192.168.1.1/ in your browser. You should see page similar to this: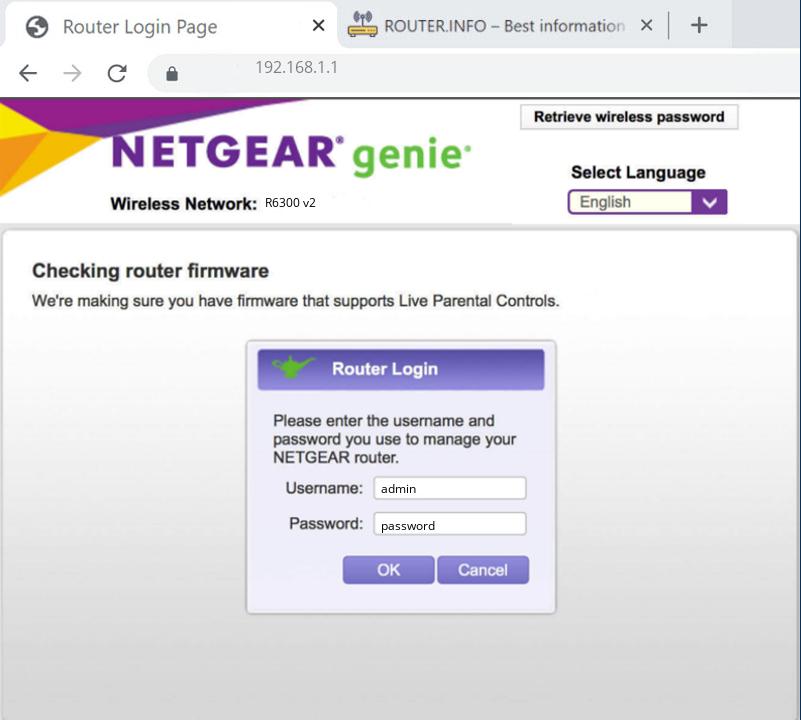 To login to your Netgear R6300 v2 router, you must first enter admin Login and password Password into the box labeled Router Login, as shown in the above image. Then press "OK". From here your should be able to alter your Netgear R6300 v2 router settings.
How to find the IP of the router with Windows?
How to find the IP address of a router? How to find a router IP address? How to connect to a router? How to set up a wifi router? If you are wondering "what is my router IP", you are in the right place! Checking a router IP is easy, even if it was changed or is not set to a default one. Start by opening the windows command line, by clicking Windows + R and typing in "cmd". In the console, write ipconfig. This will give you information about every active connection on your computer. If you are connected wirelessly, look for Wi-Fi connection, and if you are connected by cable look for Ethernet. There check the default gateway. The IP address displayed next to it will be your Netgear R6300 v2 router IP.
What is "ipconfig"?
How to run ipconfig all on Windows 10? If you want to access your Netgear R6300 v2 setup page first thing you need to know what is R6300 v2 IP Address. There are two main methods to do that, one is to check sticker at the Netgear R6300 v2 cover, but if you don't have psychical access to router, or you want to do it faster you can always use a Windows build-in terminal by running "cmd" in start menu. There just type "ipconfig/all" and you will get a list of all existing network connections, under a default gateway position you will find a actual Netgear R6300 v2 IP address. Now you know how to enable ipconfig in Windows 10 or Windows 11.
Check sticker on the bottom of your Netgear R6300 v2 router
How to find a password on a router? How to find the router username and password without resetting? Where to find the password on the router? To be able to connect to your router you first need to type its address into the URL field of your web browser such as Edge, Chrome, or Firefox. If you don't know the address you should type, it should be on a sticker on the bottom cover or the backside of your Netgear R6300 v2 router. The sticker should also contain the default administrator name and password. You should remember that if your Netgear R6300 v2 router was used before, you should hard reset it, using a dedicated button. This way you will be sure that the information on the sticker is correct.